Mould Tools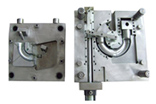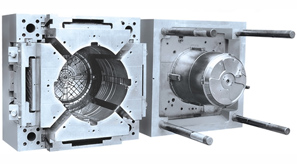 Customized Tooling
We can manufacture tooling based on 2D, 3D CAD drawings, product samples and prototypes. We create 3D models of the tool and finished product using PTC's Pro/ENGINEER. The Mould Tool core and cavity designs are produced directly from the 3D model of the part.
The tool is machined directly from the 3D model without translation.

Mould Flow analysis
During the mould design, we produce a mould flow analysis report, so that we can optimise the tooling design.



Hardened Steel
We appreciate that the aesthetics is just as important
as the product performance. We take great care in choosing mould construction materials that will stand up to the year in year out wear and tear. Most moulds we build use steels that are hardened to 60+ Rc. These are not always the easiest materials to work with but, to mould flash free tight tolerance parts for years and years they are a must.



When designing a mould we concentrate on keeping the mould compact. This adds to the accuracy of the part and minimizes moulding-related variations.
Contact Details:
Graham@ChinaMould.com

Office in UK:
Unit 6, Wolf Business Park, Alton Road,
Ross-on-Wye Herefordshire, HR9 5NB
UNITED KINGDOM
Tel: 0044-1989-561717
Fax:0044-1989-565505




Zhang@ChinaMould.com

Office in China:
No.58, Lane 1398,
Zhen Chen Road,
Bao Shan District, Shanghai, CHINA
PC: 200444
Tel: 0086-21-61427716
Fax: 0086-21-61427750